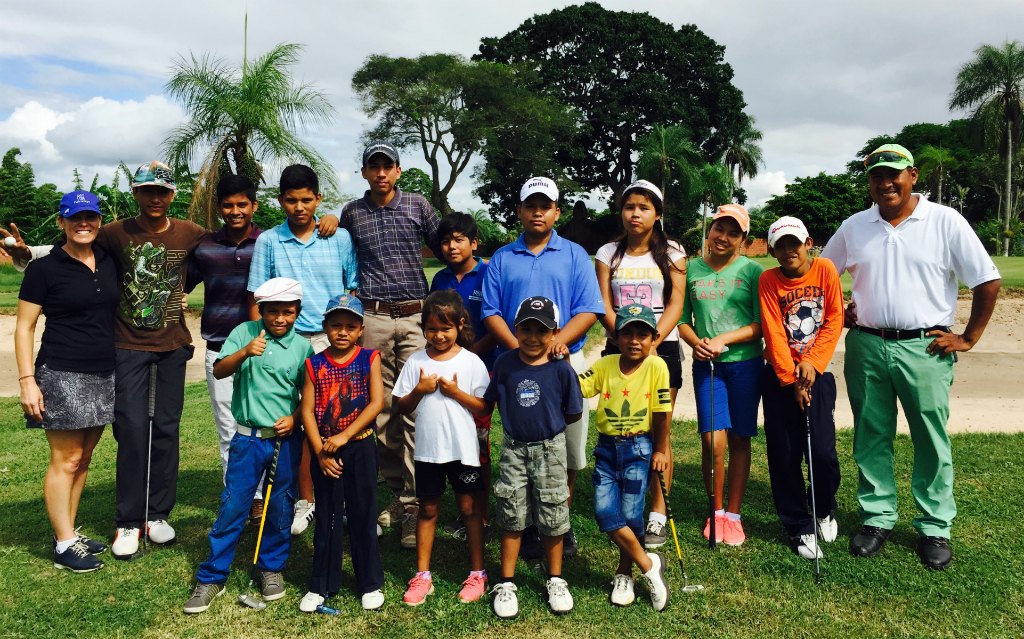 Last week I spent a lot of time deliberating and talking to Edwin about how we can continue the Bolivian program and make it both affordable and accessible to the underprivileged juniors we are working with.

There are a lot of obstacles to overcome and some days I feel they are insurmountable and then the next day I wake up with a new idea and can take on the world.

I have felt a little lonely sometimes, working in my apartment until all hours and while I certainly have made friends here, my habit in the evening is to go home straight from the course or go for a run with a friend then head home to work for a few more hours.

Social media has been a great tool to not only spread the word about Fairways but to also to keep me grounded when I feel disconnected and alone.

At times I feel like I am treading water and barely keeping my head up, sometimes sucking in mouthfuls and then someone returns a message and donates a little something and I am back with my head above water.

My sister's words of advice were "Just keep swimming" and that is exactly what I intend to do. I have worked out some solutions to not only the Bolivian juniors but also on how to keep my head above water. (Your sister is also doing her own fundraiser on behalf of the Bolivian cadets. Legend! - Ed.)

Besides the monthly sponsorships that are trickling in and the DAWN 2 DUSK Golf Challenge fundraiser in June, I have also started to plan our November golf day in Australia and have connected with some Irish and Scottish courses that may have a small fundraiser when I visit and talk about what we are doing with Fairways.

All these little things add up and will enable us to continue and expand the programs we are running.

I emailed Canada this week and connected with Dave Bowlan (my golf guru) who is running winter lessons for the Canadian juniors on golf simulators and an 18 green indoor putting facility. One of the mothers wrote back saying her son, Evan was loving it and was watching my YouTube videos and couldn't wait to meet me this summer. Evan was a new junior who came on board at the end of the summer after I was already on my way out of the country. I included him in the winter lessons and look forward to meeting him in May when I return to PEI.

We also had an update from Nepal about Pratima and how she is going which Jeremy will be writing about shortly.

It is usually on days when I feel overcome with hurdles that I get a message from my biggest cheerleader in Canada, Paul Koski, or one of the Indian juniors checking in and seeing how my golf is going as they practice theirs.

When I look at what we achieved in ten months I am very happy and plan to continue putting everything I have into it, although I am ensuring I have a better work life balance.

This week I also received an email from Mike Kenny the General Manager from Glencoe Country Club in Calgary whose members kindly donated nearly ten sets of clubs for the Bolivian juniors. The clubs are on their way to Miami where they will be consolidated with other goods to be shipped to Bolivia for the Federación Boliviana de Golf.

I was also interviewed by Caddie Magazine and hope to have an article about Fairways feature in their second issue.

Finally, at El Dorado we had a mini tournament for the juniors with three categories: best putter, best approach shot and the best golf over 2, 4, 9 holes depending on age and capabilities.

Rodrigo Cambruzy and his son, Stefano, donated a golf bag and shoes and clothes they no longer needed and we used these as prizes for the juniors (as well as me raiding my golf bag for bits and pieces I have picked up along the way).

There were 13 juniors who all had a lot of fun. Tiring fun, but fun nonetheless. There was quite a difference between the juniors who had been able to attend regularly and the ones who were not able to come in the afternoons because of their school hours.

I can't believe I have been in Bolivia for six weeks already. In another three weeks I will be off to Ireland and I am trying to finalise the planning of that and Scotland around juggling everything else.

Please help to support Fairways, even just to share this post of Facebook. Thank you!