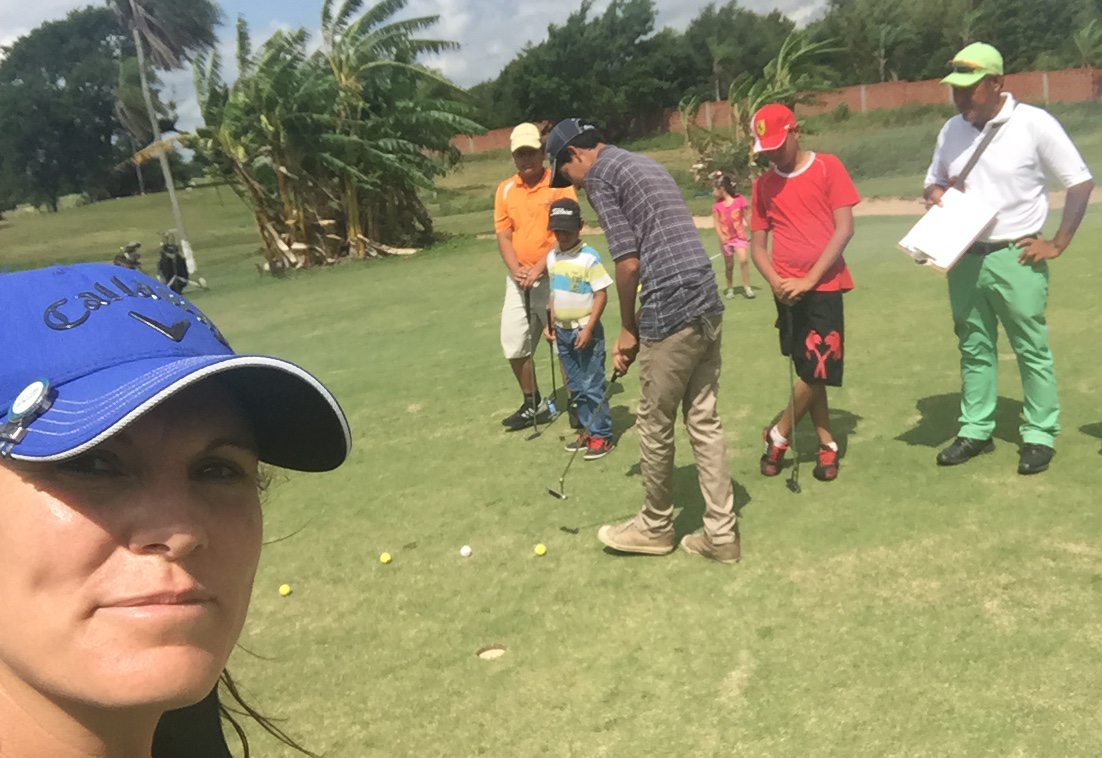 Another week in Bolivia, and at times it is very hard to continue pursuing what it is we set out to do. The people here are very nice and the ones I have met really want to help the kids we are working with, but it is difficult to align our vision with the personal interests of some people.

I am trying to promote junior golf in Bolivia, but because golf is very expensive here, it is difficult to raise sufficient funds to support the juniors at El Dorado Country Club. I am still hoping.

There are only seven courses in this country and golf has been an elitist sport since it was introduced. We are trying to change that, so here I am, helping underprivileged juniors play the game they love.

I was lamenting the difficulties with a friend, and feeling burdened with it all, I asked him what I was doing here? He said that golf gives the children hope, and that's what I'm doing, working to improve the lives of others and for that I should be very happy.

He's right, I am happy working on something I am so passionate about, but it can get frustrating when my Spanish skills are not advanced enough and we continually face various bureaucratic problems.

As the children went back to school last week, classes didn't start until 2pm so I had the morning to practice Spanish and work on other aspects of Fairways.

Not only am I here in Bolivia, I am also working on operational aspects with Jeremy, planning the DAWN 2 DUSK Golf Challenge and my trip to the UK and Ireland.

There is constant work to be done, but unlike the early days of Fairways where I burnt myself out a bit, I am ensuring I have a better work-life balance. So I'm not always working, I now watch YouTube videos in Spanish and do things like research golf in other countries. I recently found a nonprofit working with juniors in Ghana, so might have to get in contact with them one day too.

With school now back, last week our golf clinics only had two juniors in the early session and three in the afternoon session. Another problem is the distance the kids need to travel and the cost of transport. Ale, whose 15th birthday party I went to last week, needs to pay $4 for a pillion motorbike ride to get to the course, and his family just can't afford that. Unfortunately it meant I only saw him once last week.
I emailed a video of Ale to Dave Bowlan, my golf guru in Canada, as he'd talked about helping to coach our juniors remotely. Dave thinks Ale has real potential, and he's not the type to say that flippantly, but it's hard when he can't make it to practice.

I wish I had more money but alas my credit cards are nearly tapped-out as I have already spent so much on juniors in other countries.

On a happier note, every Friday is our junior program competition day. Last Friday we had a putting challenge and then a longest drive competition. Rigo and Elias won themselves a brand new Snell golf ball (donated by Snell Golf Canada). I marked their balls for them and enjoyed their delight. Elias is eight years old and has only been playing golf for two-and-a-half weeks! He loves it.

Next week, I'll be able to tell you about my trip to the offices of the Federación Boliviana de Golf. Edwin and I are going to discuss Fairways' activities here, and to see if they can help us.
Here's to hoping.